CHIPS POTATO PLATE
"FROM MARTIN" WITH TASTE SOUR CREAM AND ONION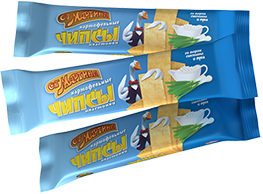 Chips plate with sour cream and onion flavor - delicious thin slices of potato fried in oil and rich taste special spices that make our product unique and memorable first time. Onions are rich in vitamin C, but is now in first place among the treasures of the onion leaves quercetin - a powerful anti-cancer element.
Energy value: 556 Kcal / 100 g.
Chips plate with sour cream and onion flavored "From Martin" are available in packing of 50 and 100 grams.
Package weight/ pieces a box:
100g/30pcs
Valid 180 days after production date. Keep in a dry dark place at temperature 25°C and maximum 75% air relative humidity.
Nutrition facts:
• proteins 4,3g, • fats 35,0g, • carbohydrates 51,0g