CHIPS POTATO PLATE
"FROM MARTIN" WITH THE TASTE OF THE CHEESE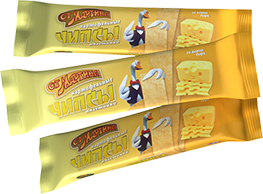 Chips plate with cheese - useful and nutritious product. Potato is rich cheese flavor. Thin slices of flavorful potatoes, fried in oil, so appetizing crunch on the teeth that one packet is always small. Cheese chips gives a piquant salty taste. We do not accidentally releasing chips with cheese, because the cheese - is not only useful, but also well-liked product.
Energy value: 556 Kcal / 100 g.
Chips plate with cheese "From Martin" are available in packing of 50 and 100 grams.
Package weight/ pieces a box:
100g/30pcs
Valid 180 days after production date. Keep in a dry dark place at temperature 25°C and maximum 75% air relative humidity.
Nutrition facts:
• proteins 4,3g, • fats 35,0g, • carbohydrates 51,0g