CHIPS POTATO PLATE
"FROM MARTIN" WITH THE NATURAL TASTE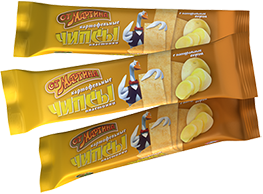 Chips with classic natural taste of potato - thin slices of potato fried in oil, ready-to-eat food. According to legend, in 1850 the chef at the "Ritz" favorite dish prepared for the multimillionaire Vanderbilt, but was distracted from his beloved and forget about potatoes, which is roasted in oil.
Energy value: 556 kcal / 100 g.
Chips with the natural taste of the classic potato "From Martin" are available in packing of 50 and 100 grams.
Package weight/ pieces a box:
100g/30pcs
Valid 180 days after production date. Keep in a dry dark place at temperature 25°C and maximum 75% air relative humidity.
Nutrition facts:
• proteins 4,3g, • fats 35,0g, • carbohydrates 51,0g