CHIPS POTATO PLATE
"FROM MARTIN" WITH ONION FLAVOR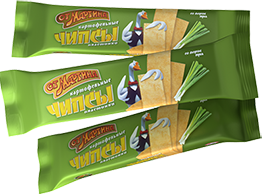 Chips plate with onion flavor - delicious thin slices of potato fried in oil that appetizing crunch on your teeth. Used as a spice onion gives the product a unique taste and aroma. Today, on the first place among the treasures of the onion leaves quercetin - a powerful anti-cancer element.
Energy value: 556 kcal / 100 g.
Chips plate with onion flavor "From Martin" are available in packing of 50 and 100 grams.
Package weight/ pieces a box:
100g/30pcs
Valid 180 days after production date. Keep in a dry dark place at temperature 25°C and maximum 75% air relative humidity.
Nutrition facts:
• proteins 4,3g, • fats 35,0g, • carbohydrates 51,0g