SEEDS "FROM MARTIN" PREMIUM CHOICE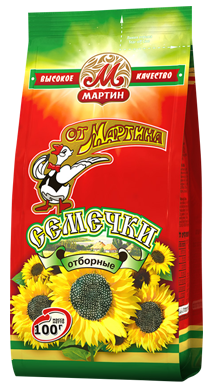 Especially for you manually carefully selected the largest and most nutritious seeds.

Roasted sunflower seeds - a traditional Russian product. It calms the nervous system, recommended for those who quit smoking. They contain vitamin E, which is called the elixir of youth.
Nutritional information:
Proteins 20,7 g
Fats 52,9 g
Carbohydrates 5,0 g
Energy value: 578 kcal / 100 g
Seeds "From Martin" Premium Choice awarded gold medals and the Grand Prix exhibition
"Dalagro Food 2009", "Seaside Food 2009", "Gemma 2010", "Gemma 2011", "Gemma 2012", "DalAgroPischeProm 2011", " DalAgroPischeProm 2012 "," 2013 DalAgroPischeProm "
Seeds "From Marina" Premium Choice available in packaging of 50, 100, 200 and 500 grams.
Package weight/ pieces a box:
50g/50pcs
100g/50pcs
200g/25pcs
500g/10pcs
Shelf life
​180 days since the date of manufacture. Store in a cool, dry place at a temperature below 25°C and relative humidity of 75%