SEEDS "FROM MARTIN" CHOICE PREMIUM WITH SEA SALT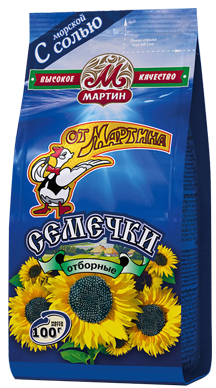 We are pleased to offer new product - Selected Seeds with sea salt. Black seeds - are more calorie and carbohydrate (3 times greater than in white) other than seeds. Black seed is smaller than the white and striped, but more filling. Especially for you, carefully selected the largest and most nutritious seeds.
Nutritional information:
Proteins 17,06 g
Fats 34,5 g
Carbohydrates 5,4 g
Energy value: 396 kcal / 100 g
Seeds "From Marina" Choice Premium with sea salt produced in the packing 100 and 200 grams.
Package weight/ pieces a box:
100g/50pcs
200g/25pcs
Shelf life
​180 days since the date of manufacture. Store in a cool, dry place at a temperature below 25°C and relative humidity of 75%