FRIED SUNDFLOWER SEEDS «MOLODEZHNYE»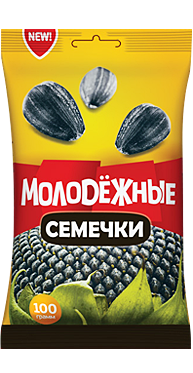 Roasted sunflower seeds " MOLODEZHNYE " was awarded the gold medal of the international exhibition "WorldFood-2013".
To support products released 20 sec. Promotional video "hit of the Season". You can watch it on YouTube and download in format for display on the TV section of the website is "Advertising".
Roasted sunflower seeds "Youth" are available in the following packaging- 50, 100, 200 grams.
Package weight/ pieces a box:
50g/50pcs
100g/50pcs
200g/25pcs
Shelf life
​180 days since the date of manufacture. Store in a cool, dry place at a temperature below 25°C and relative humidity of 75%